Olivia in 1966
Growing up in Australia
Olivia Newton-John was born in Cambridge, England on September 26th 1948; her family moved to Australia when she was 5. Her mother was German, daughter of the physicist Max Born, her father was Welsh, a professor of German at Cambridge and Melbourne. Despite the academic background, early on Olivia showed an interest in singing, forming a band called the Sol Four with some schoolfriends, and later on singing at her brother in law's coffee bar in Australia. She appeared in several Australian TV shows such as The Go Show as a teenager also starred in a movie Funny Things Happen Down Under which was forgettable apart from some early promise shown in Olivia's delightful rendition of "Christmas Down Under".
in Funny Things Happen Down Under
A talent contest hosted by the Australian Johnny O'Keefe offered Olivia the prize of a trip to England, and she took this up in 1965. Her first introduction to making records was a one-off single deal with Decca Records. The single, Till You Say You'll Be Mine/For Ever, is extremely rare though these two songs were available (Oct 1994) on the British compilation CD Pop Inside the 60's.
England did not make Olivia entirely happy - she missed Australia and her then boyfriend, Ian Turpie. In one interview she reports how she attempted to book her return flight without telling her mother, who had accompanied her to the UK. Fortunately for Olivia's fans and her future career her mother was not having her daughter waste this opportunity to broaden her horizons and Olivia's plans were thwarted.
Pat and Olivia in London
with Bruce Welch
Things improved when Pat Carroll, a fellow Australian, arrived in the UK. Dreaming of stardom the two girls played pubs and clubs as the vocal duo imaginatively called "Pat and Olivia". New to the British music scene their initial hirings were not always a success - such as the duo's performance at Paul Raymond's Revue bar. They were somewhat taken aback by the scant attire of some of the other performers. Needless to say the duo who were dressed in high-necked frilly dresses were not asked back to what they later on discovered was a strip joint...
In 1968 Bruce Welch of the Shadows fell for Olivia and they became engaged, something which was not entirely without problems as he was married at the time...

Pat's visa ran out in December 1969 and she returned home. For Olivia, movie stardom beckoned as she was invited to join the band Toomorrow, which was to be Britain's answer to the Monkees. This manufactured group issued an eponymous album in 1970 to go with the film Toomorrow, but the public were not impressed and the movie closed quickly, leaving Olivia to concentrate on her solo music career.
Olivia was invited to be the resident star for Cliff Richard's highly successful TV show in 1972, and she was a regular live performer in London.
Olivia Newton-John's early career in the UK
On the Cliff Richard TV show
The early Seventies was a prolific period for Olivia - her association with Cliff Richard and the Shadows brought her music to a wide audience. Cliff Richard had a regular TV show and Olivia was a regular guest. She released the albums Olivia Newton-John (1971), and Olivia (1972), Music Makes My Day (1973)
Bruce Welch arranged Olivia's first hit single, a cover of Bob Dylan's If Not For You. This single was Olivia's first taste of success in America, something she was to experience a lot more of in the next few years.
Olivia reached a turning point in her career with the release of Let Me Be There which charted at #6 in America. No longer engaged to Bruce Welch, John Farrar, another member of the Shadows, took up songwriting and arrangement for her and this was a successful team which was soon to take the United States by storm. John Farrar had known Olivia from the early days and he later married Pat Carroll, Olivia's erstwhile singing partner and future business partner.
While holidaying in 1974 in the South of France, Olivia met Lee Kramer, who had a successful business import/export business. The romance developed, and Lee was Olivia's boyfriend and manager for much of the rest of the decade.
Olivia and Lee Kramer
Eurovision 1974
Just before she moved to the United States to build on her burgeoning success there, Olivia represented the UK in the Eurovision Song Contest in 1974. Both song and Olivia's costume on the night were selected by a poll of TV viewers, and the whole mess showed just what was wrong with vox pop artistic taste. A truly awful oompah - oompah song, Long Live Love was chosen, together with a long flowing baby-blue dress for the actual performance.
This time Olivia was up against strong competition - 1974 was the year that ABBA stole the show with a barnstorming performance of their song "Waterloo", which launched their international career. Olivia came fourth.
America calls
America beckoned and Olivia left England in 1975 to a rapturous welcome for her next album "Have You Never Been Mellow". The title song charted at #1 and her next single from the album, Please Mr Please, reached #3. This was the start of a roll which continued throughout the 70s with a string of gold albums in the US. Olivia was to become a regular on shows like the Midnight Special, and in 1976 she had her own TV special by ABC - A Very Special Olivia Newton-John.
Her US audience had loved her for her soft and delicate delivery of ballads and country songs, and she treated them to a string of albums beautifully sung - Clearly Love, Come On Over, Don't Stop Believin, and Making a Good Thing Better. Olivia toured the United States with the album Clearly Love.
Olivia captured hearts in Japan with her singing as well as in the US - she toured Japan in 1976 with the album Don't Stop Believin'. Japanese listeners had loved her ever since her performance in the 1971 Tokyo Music Fair, and the 1976 concert was released as a live album in Japan titled 'Love Performance'. She won a string of Grammys for her work, and settled in Malibu, near Los Angeles, with a ranch in the mountains.
There she fulfilled a childhood ambition, keeping a number of dogs and horses on the property. As a child, she had not been able to keep many pets despite her love of animals. Her concern for animal welfare spilled over into her professional life when she refused to go to Japan until they amended tuna fishing practices to reduce the needless slaughter of dolphins in the nets.
Grease is the word
Musically, it seemed as if Olivia was at the peak of her career, gathering awards effortlessly. In Los Angeles, a producer was looking for a female lead to play opposite John Travolta in his forthcoming movie adaptation of the stage musical Grease. Olivia was not totally sure about playing in another movie and requested a screen test after she was asked to star. The scene was the drive-in and Olivia wowed Allan Carr. Released in June 1978, Grease went on to become one of the biggest selling musicals of all time and the Grease soundtrack album stormed the charts on both sides of the Atlantic. Her album, Totally Hot, also released in 1978 showed a new musical direction away from her early ballads to more upbeat rock. The album was a great success and Olivia toured America, Japan and Europe with it.
Totally Hot
tour, 1978
A muse in
Xanadu
It was always going to be difficult to follow up such a huge success, and Olivia's next movie, Xanadu (1980), received a panning from the critics and did not draw the public into the cinema. However, the Xanadu soundtrack was a roaring success, with Olivia's song Magic topping the US charts, and the title song, a duet with ELO, also selling well. The movie has since become something of a cult classic, with a small but dedicated following.
The movie did have a personal spin-off for Olivia - she met her future husband, Matt Lattanzi, who was a dancer on the set of Xanadu.
Physical
In 1981 Olivia released the album Physical. The million-selling title track took up residence at #1 on the US charts for weeks - the second-longest run in the top spot. She had some trepidation about how her fans would like the new direction but she needn't have worried - they loved it!
With the aerobic feel of the title track and accompanying video, Olivia's early 80's trademark was the short cropped hair and headband. With the album there was also a full-length video, which was unusual at the time when videos were normally just for individual songs. The album was so successful that when Olivia toured with Physical the next year she played all over America to sell-out audiences.
The 'Physical' look
Two of A Kind
After reaching the pinnacle of her career with Physical, Olivia wanted to take things easier. She was starting to think about other directions - one of them was starting a store with Australian novelties, which was later to turn into the "Koala Blue" fashion chain.
In an attempt to reproduce the box-office magic of 'Grease', Olivia was cast with John Travolta in the movie Two of a Kind. In interviews at the time Olivia said that this was her first opportunity to star in a non-musical movie, but the result was not a cinematic success. Once again, however, the soundtrack of Two of a Kind sold quite well with some strong tracks from Olivia and a pleasant duet with John Travolta.
Olivia married her young live-in boyfriend Matt Lattanzi, around Christmas 1984, after they had lived together for four years. The couple enjoyed a fairytale honeymoon in Paris.
Her next change in musical direction was the sultry risqué approach of "Soulkiss" it was not really a musical success. Bizarrely, the videogram was shot when Olivia was pregnant with daughter Chloe - trying not to show this constrained the artistic freedom of the director somewhat.The album, which featured Olivia in tight riding pants and boots holding a crop on the back cover, stretched things further than the public found credible.
Olivia and Matt
with Chloe
Chloe was born early 1986, and this marked a hiatus in Olivia's music. The period 1986 to 1992 was a lean period in her entertainment career, as she dedicated herself to motherhood, and to developing her business venture, the Koala Blue chain of stores.
Olivia transformed her original idea for a Australian speciality store into a fashion chain. This enterprise was established with fellow-Australian and wife of Olivia's long-time record producer, Pat Farrar, with whom Olivia had started out singing in Britain in the late Sixties and early Seventies. Koala Blue was to be a more family-friendly alternative to an intensive singing career, but it did not last the late '80s/early '90s recession. Olivia chose to expand the franchise chain just as consumers were reining in their expenditure on non-essentials, and the company filed for Chapter 13 bankruptcy amid some recriminations.
Music was not totally neglected - in 1988, Olivia brought out "The Rumour", with the title track penned by Elton John. 1988 was also the year of the Australian Bicentennial, and Olivia made a videogram titled "Down Under" for the Rumour, in which she performed the songs in some stunning Australian settings. The Australian version of the album features the song "It's Always Australia For Me" which is absent from international versions.
Warm And Tender, released in 1989, was not really aimed for the mainstream pop market. An album of children's songs and lullabies, this was really meant for Chloe. It is Olivia's first real musical indulgence, which was released on the Geffen label after MCA refused to run it.
At the 1998 Grease 20th anniversary premiere
Disaster strikes Olivia's comeback plan
Geffen released "Back To Basics, The Essential Collection" in 1992. This was to be Olivia's return to what she did best, a retrospective over her career but featuring four new songs, which Olivia promoted actively, and she was rehearsing to go on tour with the album in the late summer.
The bombshell came on July 2 - Olivia Newton-John had breast cancer. She was taken to hospital and operated on, and then had to undergo a period of chemotherapy. In February the next year she got the all-clear, and went to Australia to recuperate.
Gaia, One Woman's Journey, an intensely personal and upbeat album, was one of the fruits of Olivia's time in Australia out of the limelight. The album was not released in the United States but was widely issued on independent labels elsewhere. Olivia chose to talk about her experiences with breast cancer, so that other women in a similar position could see that survival was possible, and early detection was important.
After her recovery, there were reports of difficulty in Olivia's marriage, which came to a head in 1995 with the announcement that Olivia and husband Matt Lattanzi, were to go their separate ways and eventually divorce. For the next two years Olivia's career was a medley of different directions, with her participating in beauty ads for Home Shopping, a bit part in a US sitcom, an Australian wildlife show titled "Human Nature", appearing in an Aussie TV series "The Man From Snowy River" and acting in the movie "It's My Party" directed by Grease director Randal Kleiser.
Marae publicity photo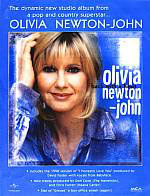 After two years of wandering in the wilderness professionally, Olivia began to feel her way musically once again, with some fine singing for the US Christmas movie "Snowden on Ice", and some private performances at events for CHEC, a charity dear to Olivia's heart. In July 1997 MCA-Nashville signed Olivia for a pop country album, and she recorded a duet with the Raybon Bros "Falling" on their eponymous album.
"Back With a Heart" released in May 1998, found Olivia in fine form with an excellent mix of pop and country.
Teaming up with Cliff Richard in her first live performance for many years, Australian audiences were treated to Cliff and Olivia live in February and March 1998. The end of 1998 saw Olivia with two Australians for the Main Event Tour, a sellout show with extra dates added by popular demand.
It was America's turn in 1999 - starting on New Year's Eve 98/99 with a mini-tour Olivia treated audiences to a set of her greatest hits, followed by a much larger tour of the United States in the summer.
Meanwhile, a new look and a new direction called, with an acting role in Del Shores independent production of the stage play Sordid Lives
live in Las Vegas 99
live in Las Vegas 2000
A new millennium brought a 14-date American tour in the spring/early Summer with a new line-up of songs from her Greatest Hits. Fans in Asia were also thrilled to see Olivia performing in Hong Kong and Korea during the Summer.
The Fall of 2000 saw Olivia singing to her largest audience yet - performing a duet with Australian superstar John Farnham at the Opening Ceremonies of the Sydney Olympic Games. She also performed live at Australian's Carols By Candlelight on Christmas Eve
2001 brought another tour of the United States in celebration of 30 years of music. Also filmed in Queensland, Australia was her next TV movie Wilde Girls. This also starred her daughter Chloe and premiered in November 2001 on Showtime channel. Olivia released "Magic" - a best of compilation and her first Christmas album entitled simply "The Christmas Collection."
Olivia toured the US in 2002 accompanied by a Symphony Orchestra to give a richer sound to her ballads. Olivia also released her first duet album entitled "2" in Australia. Olivia receives an ARIA Award for her contribution to Australian music.
In 2003 Olivia goes full-out touring the world - including USA, Japan and Australia. This continues in 2004 in February and the Fall.
Live 2002
Live 2005

In 2004 Olivia released her Indigo CD - a tribute to the women singers who have influenced Olivia in the early days of her career.

Olivia toured the USA throughout 2004 and 2005, and Australia and Japan in 2006.

Her philanthropic endeavors continue with the promotion of Livkit - a breast cancer awareness aid. She also started raising money for a cancer support centre in Melbourne, Australia to be named after her. In 2006 Olivia was awarded the Order of Australia,she'sd already received the OBE in 1979.

In 2005 Olivia released Stronger Than Before, a CD of life-affirming songs with proceeds going to breast cancer awareness. She follows this positive music with a healing CD "Grace and Gratitude" and her 2007 Christmas Wish album.

The mid-2000s brought challenges for Olivia - boyfriend Patrick McDermott disappeared while on a fishing trip though he was traced years later. However, things were to look up when she took a trip to Peru in 2007 and met John Easterling again. John founded the Amazon Herb Company which makes products using herbs and botanicals from the Amazon. John knows the Amazon well, he has been travelling to the Amazon for over three decades.
Olivia and her husband John Easterling
Olivia married for the second time on June 21, 2008, to entrepreneur "Amazon John" John Easterling, who founded the Amazon Herb Company.
Olivia seems much happier now - this shines through her music and renewed energy. She has dedicated a lot of time to helping to raise awareness and treatment of cancer, particularly breast cancer, with the self-examination aid Livkit, establishing the Olivia Newton-John Cancer and Wellness Centre in Australia and many appearances supporting cancer awareness and fundraising events.
In 2010 Olivia rereleased the album Grace and Gratitude with some new versions of the songs as Grace and Gratitude renewed. We don't often get the chance to compare, but the extra joy in her life shines through when I compare the last track on each version. I loved the 2006 version of Instrument of Peace, but yes, in the 2010 version Olivia does sound renewed!
page top
Olivia continues to tour the world. She starred in the Sordid Lives TV series and co-hosted Healing Quest on PBS in early 2008. She'walked the Great Wall of China in April 2008 to raise funds for her cancer centre.
Most people think of Olivia as an interpretative singer, singing with her unique blend of a clear and light voice combined with a delicate sensitivity and tenderness. This was how she captured American hearts in the mid-seventies, with songs like I Honestly Love You and Have You Never Been Mellow.
However, Olivia has never been happy to stay still, and has continuously broadened her music, showing herself to be a versatile singer as she covered rock songs as well as the gentle folk songs and ballads which formed her early repertoire. Indeed, her most successful single 'Physical' came in 1981, and was a raunchy upbeat number far removed from the type of songs that established her career in the US. Though most of her songs till recently were written by others, already on her second album the self-penned song Changes showed her potential for songwriting, and she has continued to write some very special songs around topics that have deeply concerned her. On Gaia, all the songs are written by her, and Back With A Heart combines some great pop sounds with some strong new country tracks. Her new millennium releases have included a duet album "2", "Indigo" a tribute to female singers that have influenced Olivia and Stronger Than Before. Grace and Gratitude, an album of healing music, took this a step further and is arguably her best album of the Millennium so far.
Other Interests
Olivia has always had a feeling for Nature and the living environment. She has had a passion for keeping animals, and is a keen horse rider. At her Malibu home she had quite a menagerie of dogs and horses and other creatures.
This affinity for the environment is also reflected in her work - as early as her 1976 Come On Over album there was a song on 'wild horses running free' and her 1981 Physical album head the wonderfully sensitive 'Dolphin Song'. She became United Nations ambassador for the Environment on the UNEP program, and sang in the 'Spirit of the Forest' collaboration in the early eighties. Her 1994 album, Gaia, has a strong environmental theme.
With the arrival of Chloe, it was not surprising that such a sensitive person as Olivia would also involve herself in projects involving children. Olivia has co-written a children's book called 'A Pig Tale' with an environmental theme. She is very actively involved in the Colette Chuda Environmental Fund (now Children's Health Environmental Coalition).
After recovering from breast cancer back in 1992, Olivia has continuously supported breast cancer awareness charities. In the 21st century Olivia is helping raise funds to build a cancer support centre in Melbourne, Australia which will be named after her. She also promotes the Livkit - a breast cancer awareness aid.
Richard, 1992-2014
page top